We have finally achieved our aim of becoming a CIC (Community Interest Company) which is a not-for-profit, social enterprise.
We are so happy that the CIC Regulator saw the value of our company and agreed that we provide a benefit to the music industry and the African and Caribbean communities in Manchester and further afield by:
Supporting the African and Caribbean music industry, especially music of Black origin.
Giving a platform to grassroots musicians, DJs and broadcasters.
Training the next generation.
Amplifying Black voices on important issues.
This new structure will help us strengthen our commitment to the African and Caribbean music industry, grassroots musicians and music of Black origin. We wouldn't be able to look forward to a bright new future as a CIC without the support of our listeners, advertisers, donors, supporters, and sponsors. Thank you so much for being there for us!
Team Legacy x
Legacy 90.1 FM was set up in 2008 and is an integral part of the African and Caribbean communities of Hulme, Moss- Side and surrounding areas, fulfilling our purpose to inform, engage, entertain and serve our local and wider communities. It is the only Black community radio station in Manchester and is run entirely by volunteers, 65 in total. Over the last twelve years we have built solid partnerships and delivered a large number of events and projects that reinforce our ethos of creating community cohesion and giving a voice to people who are often excluded from debates on important issues.
The station is a calming outlet that many depend on in times of raw emotion and distress. Over the years, the communities of Moss Side and Hulme, have experienced more than their fair share of tragedy and loss through gang violence, health inequality and more recently, disproportionate loss of life from COVID-19. We respond to these tragic events by becoming involved in community projects related to these issues, hosting discussion and debate programming that allows people to air their views and hear a wide range of perspectives. We build partnerships with professionals in health, justice, mental health, business and the public sector to host shows that explore issues, provide information and give advice.
Legacy is a main provider of events that promote local talent and support young people to showcase their talents. Working in the community with the youth and bridging the intergenerational gap has become a mission for the station.
We continually strive to provide a representative, cohesive and inclusive service for the African and Caribbean community.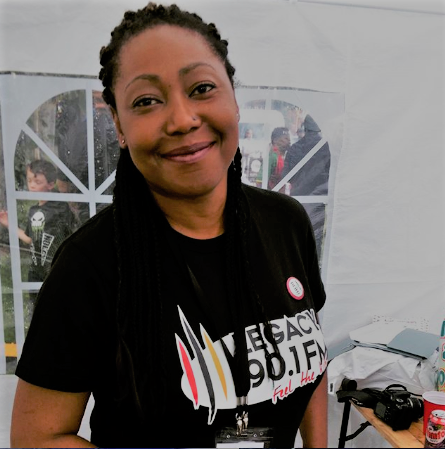 We do this by:
Delivering ground breaking and emotional content.
Discussion and debate is a fixed feature in our broadcasting output with community forums,  phone in's, live interaction and round table  discussions. We continually encourage audience participation, with a live text and email screen within the studio, which is inundated daily with messages and our listeners' opinions.
Rotating guests who provide expert advice on health and mental well-being, relationships and business, especially tailored to our community's needs.
We have partnered and supported campaigns for prostate cancer, Black mental health awareness campaigns, Black Lives Matters, Manchester job opportunities, blood drive campaigns with the NHS, sickle cell awareness campaigns, food bank drives.
Key discussion shows centered around the elderly, women and youth are a mainstay in our broadcasting output.
As part of its 70 years of Windrush programming we delivered an intergenerational project that focused on the impact, contributions and legacies that the Caribbean community has had on the cultural landscape of Hulme/Moss Side. The station played a crucial role in providing information regarding help to the Windrush generation, giving government updates, signposting and a media forum utilised by community groups who could help them.
Community Guardians, wuse the radio as a vehicle of communication to offer support to families and youth within our community effected by knife crimes and gang conflicts.
Our training and volunteer programmes for young people provide an entry point for the next generation of radio broadcasters, presenters, and producers.
We take a leading role in organising the Manchester Caribbean Carnival and Manchester's Black Musical Excellence Awards and we are involved in community projects and events throughout the year.
We are always looking for volunteers, sponsors, donors, and advertisers to help us reach more people who need us. To get involved and support us, please send us a message on the contact page or message us via social media.