Legacy 90.1FM is the only community radio station in Manchester dedicated to playing music of Black origin and we are excited about the future!
The pandemic was hard and we worked to a reduced schedule but we are coming through it better and stronger than ever because of the massive support we got from our listeners to help us through.
The next few months will see us working hard to bring back the programming, youth training, events and community programming that have always been such a vital part of our station.
You can help by clicking on the pink support buttons which are dotted around the website or by contacting us to find out how you can help us.
Keep checking back to the radio schedule page to find out when we get back to full schedule.
We're just so thrilled to be looking forward to a bigger and brighter future for the station.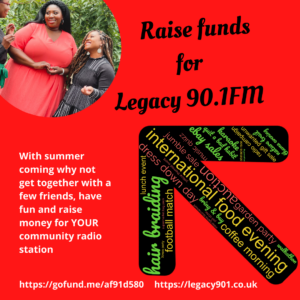 Listen to our listeners and DJs
Watch and listen to our DJs - Denise Southworth, Natural Mystic, Michael H, DJ Hotpepper, Lady C, Stevie Street and one of our long time listeners, John, talk about what Legacy means to them.
Click over to our testimonials page to hear June, Marika, Anne-Marie, Dionne and Paul talk about why they listen to Legacy 90.1FM.