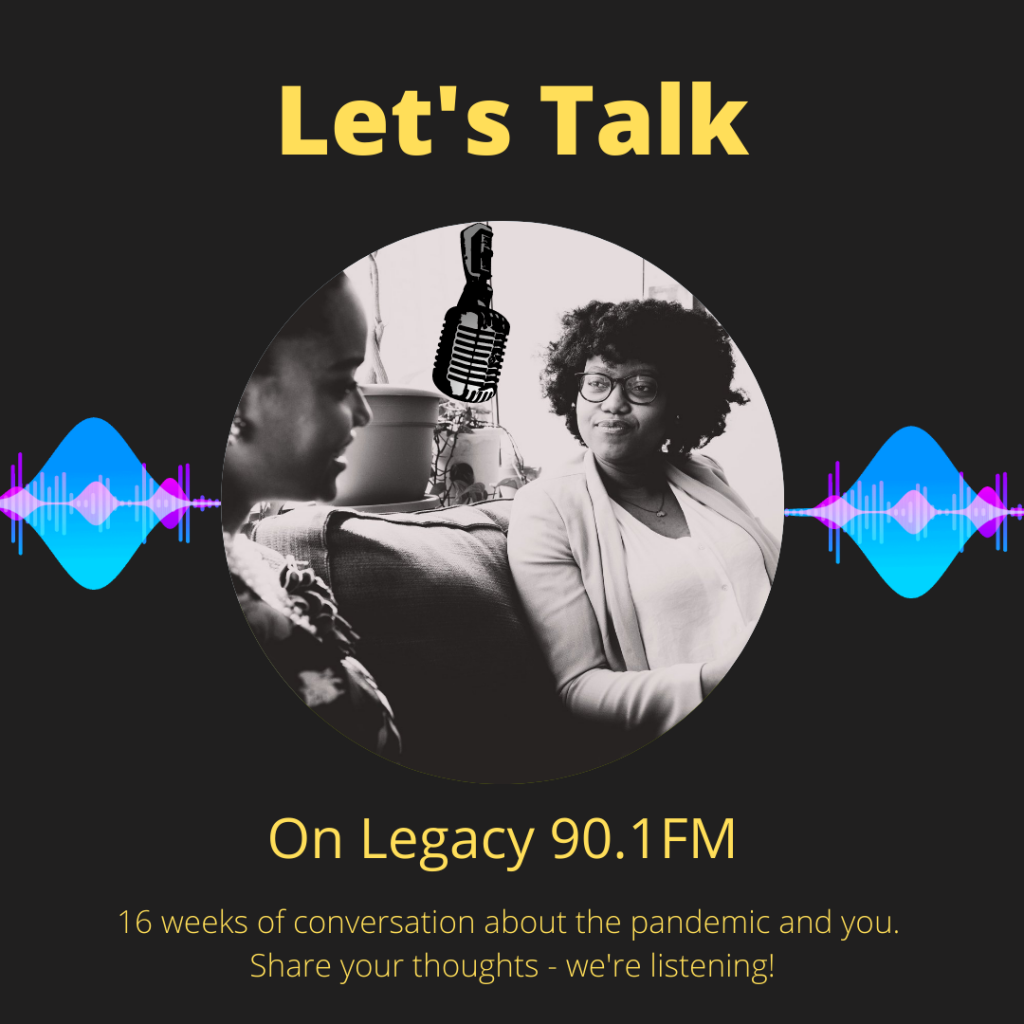 See the words people said and hear them speak about the impact of Covid on their lives. This series of shows covered the tragic losses that people experienced, but it also offers hope as people discovered new talents and found comfort in a more simple way of life. We thank them so much for sharing their stories with us. Grab a cuppa and listen to them now.
Let's Talk - Hear What People Told Us
About Death and Bereavement
About Religion and Culture
Thoughts on Covid and Life
Let's Talk ran from September 2021 until January 2022. The project was funded by Manchester City Council with 11 weeks of discussion shows talking about how Covid impacted on the lives of African and Caribbean people living in Manchester.
Three of our DJs took part in the project and we had a list of subjects to discussion with people who agreed to talk to us. We had no real expectations about who would talk to us or what they would say  but in the end we spoke to some very interesting people who were kind enough to share their history, their opinions and feelings with us and to give us a deep insight into how Covid affected them and their families.
One of the topics that kept cropping up was how Covid affected death, bereavement and funeral customs. As one person said, you can rebook a wedding or a holiday but you can't redo a funeral. You only get one chance to celebrate the life of a loved one. We interviewed 22 people and all of them had experienced loss, whether from Covid or something else and most of them felt an extra sense of loss because they were unable to practice the normal funeral customs.
Four times as many Black people died during the pandemic when compared to the White population and people talked about the contribution of institutional racism, inequality and discrimination to that outcome. People felt that these issues had led to more Black people working on the frontline where the viral load was higher and working conditions were poorer than for other groups of people who were more likely to be promoted away from the frontline. Many felt that the pandemic had highlighted these inequalities and made them harder to ignore.
Some people had lost businesses and jobs, others had started businesses. Some people found lockdowns hard and isolating while others made new friends and formed new attitudes and healthier habits. There was a lot of positivity with people saying that it was up to them to live their best life. People had varying attitudes towards vaccination with the overwhelming opinion being that it was up to the individual to decide.
As we come out of the pandemic, with restrictions lifted and life as we knew it slowly coming back, this project serves as a snapshot of life during the pandemic. Much of what people said will be relatable across ethnicities - the importance of family, the experience of a loss of control, the trauma of not being with loved ones as they passed. Other conversations were specific to African and Caribbean people and the communities they live in.
Most of all we want to say a GREAT BIG THANK YOU to everyone who was brave enough to come on air and share their experiences. We have sent their conversations to Manchester City Council so they can add the voices of the 22 people who took part to debates and discussions about the effects of the pandemic.
We WILL follow up to make sure your voices are heard!
Help us deliver more projects like Let's Talk by sponsoring a show, fundraising for us, advertising with us or volunteering with us.