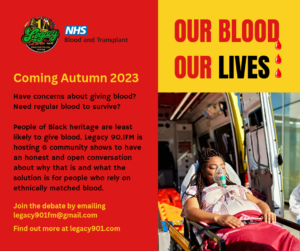 Community Debate – Our Blood Our Lives
Our Blood Our Lives is a series of six community shows starting in Autumn 2023 discussing and debating the issues around blood donation in the Black community. We know that Black donors make up just 2% of all blood donors and we want to have an honest and open conversation about the reasons why this is.
Black communities have a higher prevalence of diseases like sickle cell that require regular blood transfusions to ward off pain crises.
We also know that Black communities see high levels of rare blood types such as RO which many Black people with blood reliant diseases need.
We know that people have real concerns about giving blood even though our community has a high demand for ethnically matched blood. We feel the time is right for a show that listens to all sides of the debate.
For transparency, we have to let you know that the shows are being funded by the NHS Blood and Transplant Community Investment Scheme but our application was clear that this would be an honest debate where all views are valid. By funding the shows, they have agreed to listen and to hear what we have to say. It is in their interests because the demand for Black donors is so high. We need them to hear our concerns.
Join the debate and have your views added to our report back to the NHS Blood and Transplant Team by emailing us at legacy901fm@gmail.com.